Bank Transaction Documents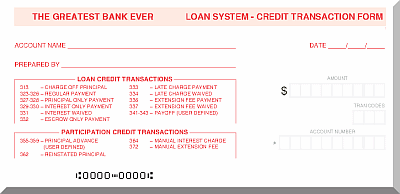 SEF, inc provides a wide array of financial documents to our trade partners. Cash tickets - General Ledger Forms – Teller Receipts – Counter Forms and Deposit Tickets make up the bulk of our transaction document production. Laser Cut Sheet statement and notification forms tailored especially for the financial industry round out our custom printed document offerings.
All forms are printed on quality bond (for cut singles) or Appleton Papers (for security and multi-part documents). By using Low Reflectivity drop-out inks and RDM's MICR Verifier, for magnetic ink testing, we insure your customer will receive a quality product that scans and reads perfectly. All laser forms are press punched and micro perfed to help facilitate jam free processing.