These templates are provided to facilitate proper design of your printed products. If you do not have Adobe InDesign or Photoshop just use the PDF measurements to set your design software's guides to correspond to those in the PDF file.
---
Tri-fold Brochure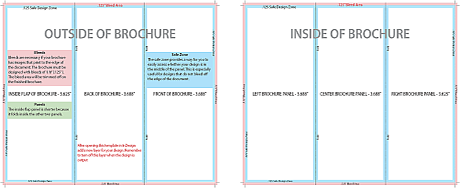 One of the most common design mistakes that we encounter is improper layout out of a tri-fold brochure. Most people make the assumption that that all three panels are the same size, but this is not so. The inside panel must be shorter, so that when it folds it does not butt up against the front panel of the brochure. This causes the finished brochure to puff up and not lay flat. Proper design will save you a lot of time and headaches when working with your printer.
Ideally, you should design your brochure in software that allows you to set up guides for your panels. We have templates in InDesign CS4 and up, PDF and PSD formats below. You should add bleeds to your brochure design if the images print all the way to the edge of the brochure. The safe areas are to make sure that there is space between your text and the edge and folds of the brochure. The safe areas on the inside of the panels can be ignored if you are working with an image or text area that crosses the divide between the panels. 
Attention to these design details can save you time, money and headaches by presenting a file to your printer that is ready to print. They will also provide you with a brochure that looks great and presents your customer's image in its best light.
Tri-fold Brochure Templates
---