Coil Bound Booklets aka Spiral Binding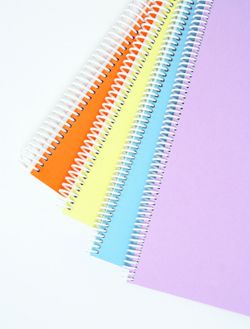 Forms can be bound in books using coil binding. It is also used for any book that you want to be able to lie flat, such as cookbooks, instruction manuals, musical scores, etc.. Coil binding is composed of either metal or plastic coil that looks similar to a spring. The coil is fed through specially punched holes and then is cut to size and crimped to keep the coil from backing out of the holes. When used for business forms there is usually a 150 lb Manila Tag cover with a chipboard backer. Covers may also be scored, as with the triad cover, to provide a division between the form sets for writing. Coil binding provides a book that will lie open and flat and is useful for many applications.
SEF, Inc., can supply you with coil bound business forms and short run digital books with coil binding. Call today for a quote! 1.800.633.1228
Click Here for more information on the various types of business form books.
PS: Coil binding is my favorite type of binding. I coil bind my notepads so they stay intact and I can go back and review my notes. This has saved me aggravation on at least one occasion concerning a password. I have coil bound several of my reference books that were perfect bound so that they now lie flat on my desk making them easier to use. Coils; it's a beautiful thing.